The weather is nice, making it the perfect time for Aperol Spritz. To get this message across to its target audience in the right place at the right time, this summer the popular Italian drinks brand, together with Menuez, is making optimum use of the possibilities of Digital Out-of-Home (DOOH) and hyper local advertising.
Digital Out-of-Home
For those not familiar with the term DOOH: DOOH is the digital version of Out-of-Home, which we know as 'stationary' outdoor advertising. This can be, for example, signboards, posters in bus shelters or billboards along the road. DOOH is the digitized version of this, making it possible to adapt the content to different elements such as time of day, weather and location.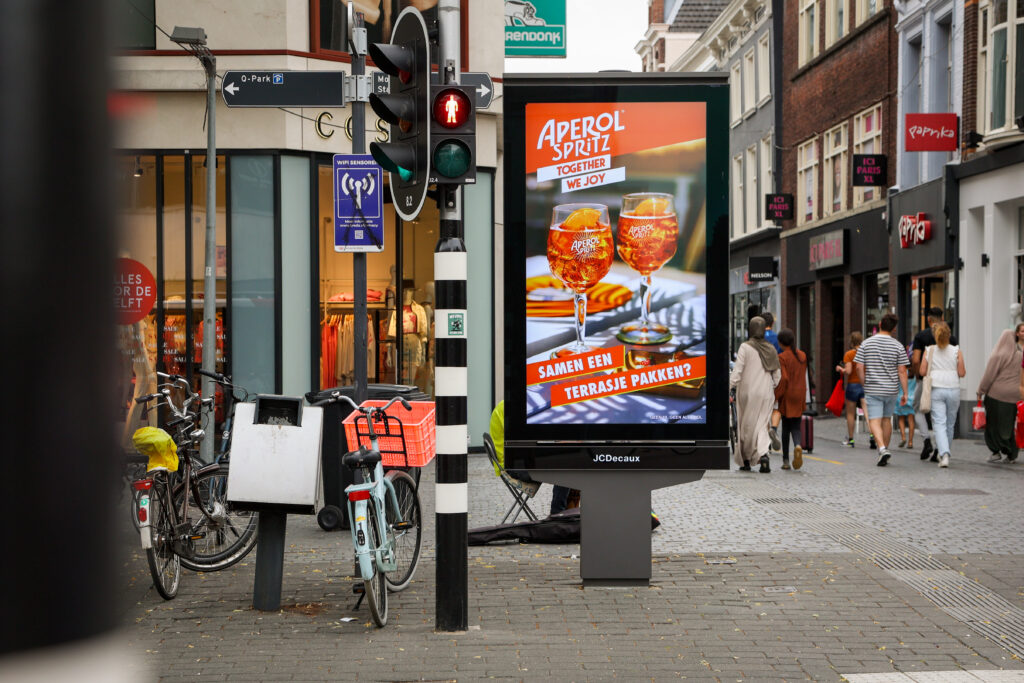 DOOH Campaign
For Aperol Spritz's DOOH campaign, the location and time of day were especially taken into account. For example, the advertising message was only visible around the Aperol Borrel& terraces in the most popular cities in the Netherlands. Also, the campaign is only 'broadcasted' from the end of the afternoon, the perfect time to enjoy an Aperol Spritz on the terrace.
Hyperlocal advertising
In addition to the DOOH campaign, Aperol Spritz selected 120 restaurants and bars with a large terrace for a hyperlocal advertising campaign. In Menuez' Brand Management Platform, Aperol Spritz uploaded their national banner and social media campaigns and made them available to these 120 Borrel& partners. The team at Menuez then made sure that the online campaigns for local business owners were sourced as smartly and locally as possible. This sourcing strategy ensured that only consumers within 800 meters of the local entrepreneur's terrace would see an online ad for Aperol Spritz.
Make your brand visible in the right place at the right time
Do you want to be as visible as Aperol Spritz on the largest terraces in the Netherlands? Contact us today to make sure your local partners have easy access to all the (online) promotional materials they need to put themselves, but also your brand, on the map.