Our Belgian partner Duvel Moortgat has been making beer for more than 150 years. For the launch of the new Duvel 6.66% in France, Duvel is rolling out a special 'Hyper-Local strategy' together with Menuez International. Hyperlocal banner campaigns around French locations were launched on October 21st and will support local entrepreneurs with increasing visibility and sales for the new Duvel 6.66% beer.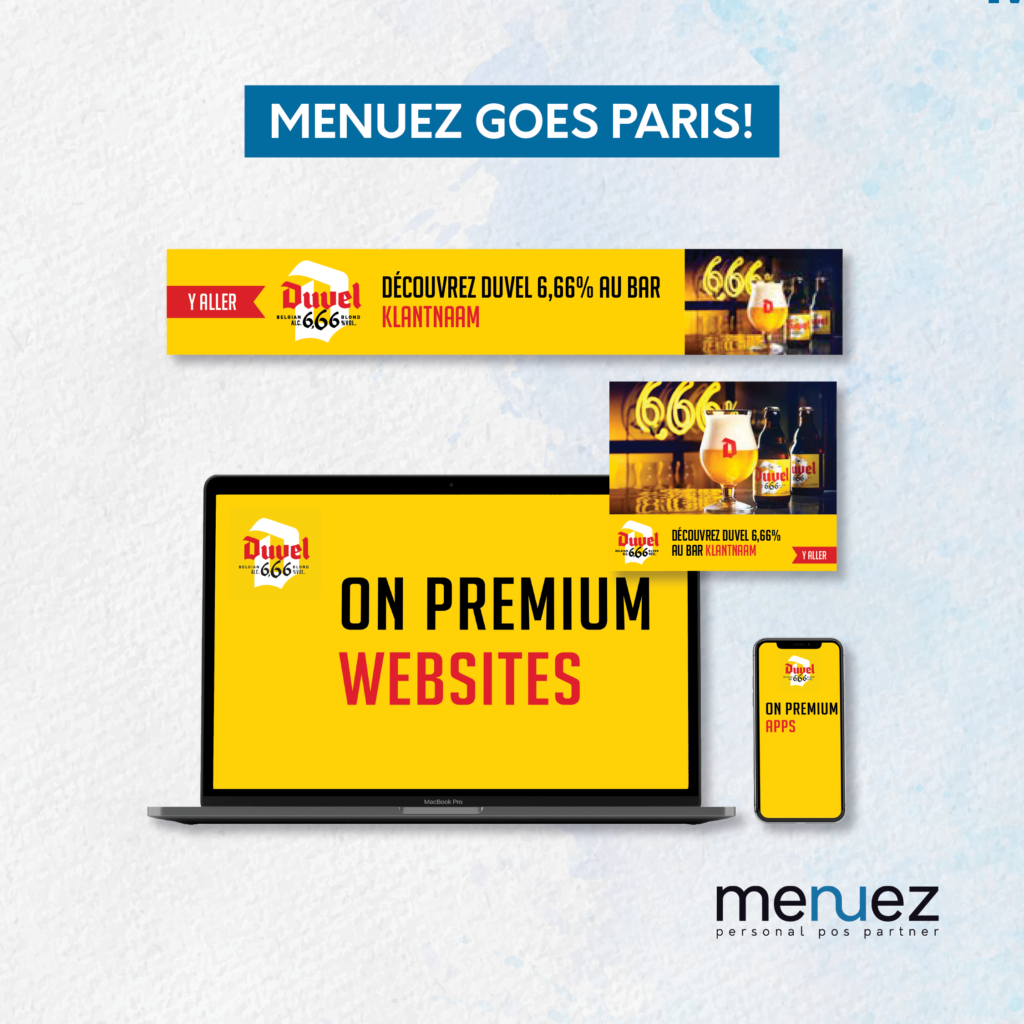 Local marketing Duvel 6.66%
Duvel 6.66% is Duvel Moortgat's new beer. As they call it themselves; "a Duvel surprise." The fresh Belgian blonde beer has a full flavour and an alcohol percentage of 6.66%. Hence the name! For the launch of this new beer in France, in addition to customised beer cards, Duvel wanted to increase local visibility through online advertising.
Smart collaboration on our Brand Management platform
The Hyper-Local strategy we developed enables Duvel Moortgat to easily translate the Duvel 6.66% national online campaign into personalised local campaigns. On our dedicated Brand Management Platform, Duvel Moortgat can upload the national banner – and social media campaigns and make them available to their local on-trade partners. Menuez will make sure the budget spent on these online local campaigns is as effective as possible. This sourcing strategy ensures that only consumers who are near the local entrepreneur will see the online ad.
Hyper -local banner campaigns
Duvel Moortgat and Menuez International have been working closely together on local marketing for years. The 700th order has now been processed and many local partners have already been provided with personalised Duvel communication and marketing tools. Menuez International is from now on also responsible for all local online marketing activities of Duvel 6.66% and therefore launched hyper-local banner campaigns across France on 21 October. These personalised online ads are deployed in a 1-km radius around the French on-trade locations where Duvel 6,66% is available. The banner campaign can be seen on both desktop and mobile and is displayed on websites with a wide reach, such as lefigaro.fr, sortiraparis.com, onvasortir.com, femmeactuelle.fr and ouest-france.fr.
Are you wondering if a hyper-local strategy could also add value for your brand? Then feel free to contact us. Our experts will be happy to share their knowledge and experience.